Longleat Lionheart
Ridden by Jon Hicks on 2013-03-17
When my friend Andy and I registered for the 'Endura Trek Lionheart Sportive' (to give it it's full sponsored title) we had two expectations. One, at 100 miles, it would be our first century ride, and two, that the weather wouldn't be 'too bad'. Mid-March wouldn't be summer, but it should avoid snow and the bitter temperatures we'd been riding in the previous months.
Both were wrong. This was the same weekend of the 2013 Milan-San-Remo, and we had or own mini version of their conditions. As we arrived at Longleat house, the snow was settling. Apart from the busy road in, everywhere was white. Word was passed down the queue that the 100 mile route was cancelled due to the weather, so everyone would be riding the 100km route. Despite the conditions, I was actually a little disappointed that I wouldn't be doing the century today.
It was a bloody freezing wait at the start line, we just wanted to be off - get riding and warm up. I looked up at the climb on the driveway in front of us with dread, and hoped we wouldn't be facing something so steep so early on. Instead we were directed off to the right, away from Longcombe Drive! This lifted my spirits a bit, and I was enjoying the buzz of finally spinning off with a big group.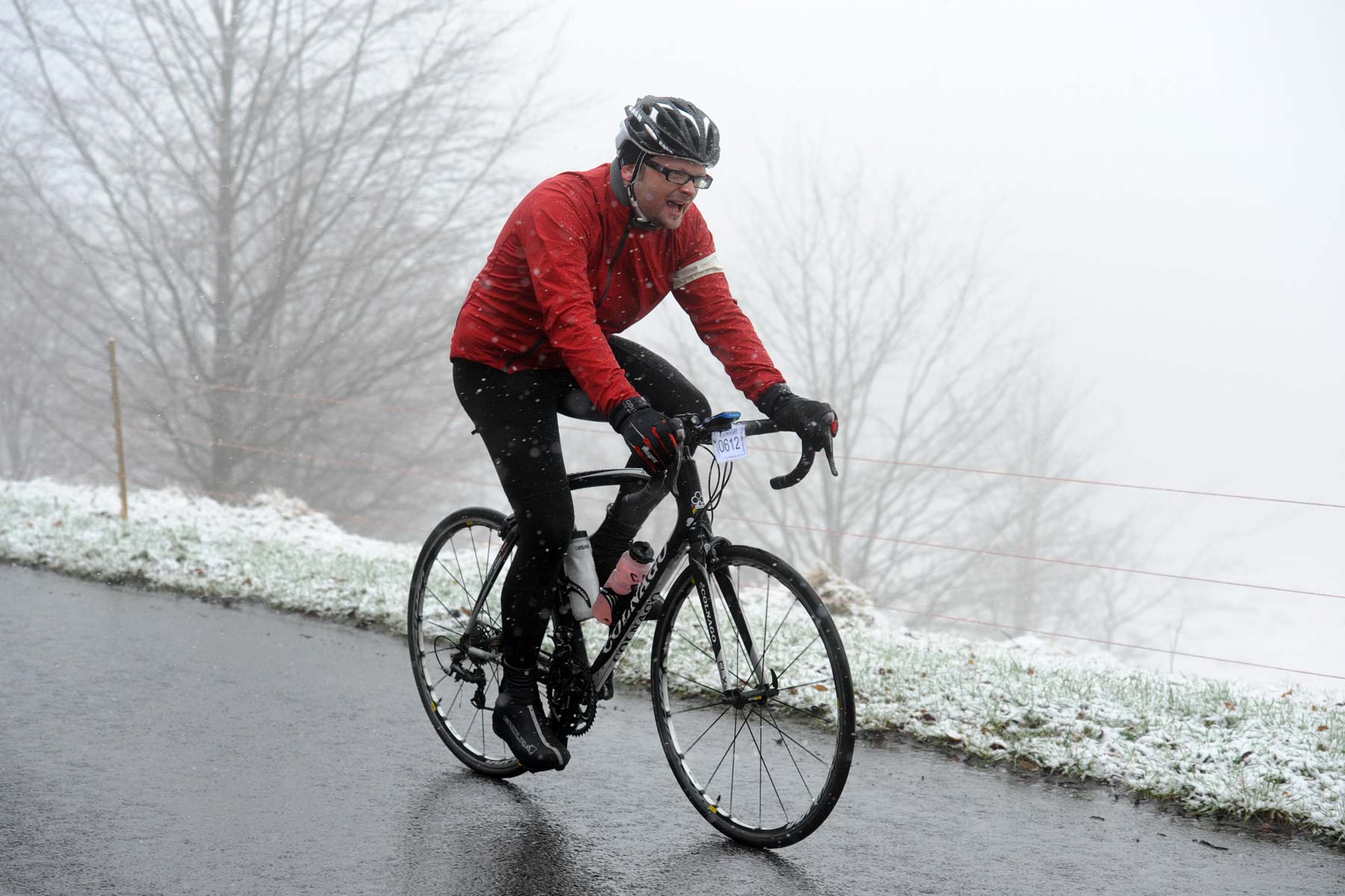 The snow thickened, and by the time we were 8 miles in we could barely see where we were going
Three miles later however, and we were back to where we started in front of Longleat House, facing the hill that I thought we'd avoid. Gah. I'm sure it was to give us all a tour of Longleat and a peek at the lions before we head off into Wiltshire, but I took it as an act of masochism by the organiser. The lions were staying out of sight too.
The snow thickened, and by the time we were on Rye Hill (about 8 miles in) we could barely see where we were going. Snowflakes melting in my eyes. The roads were slippery and I couldn't make the most of the descents.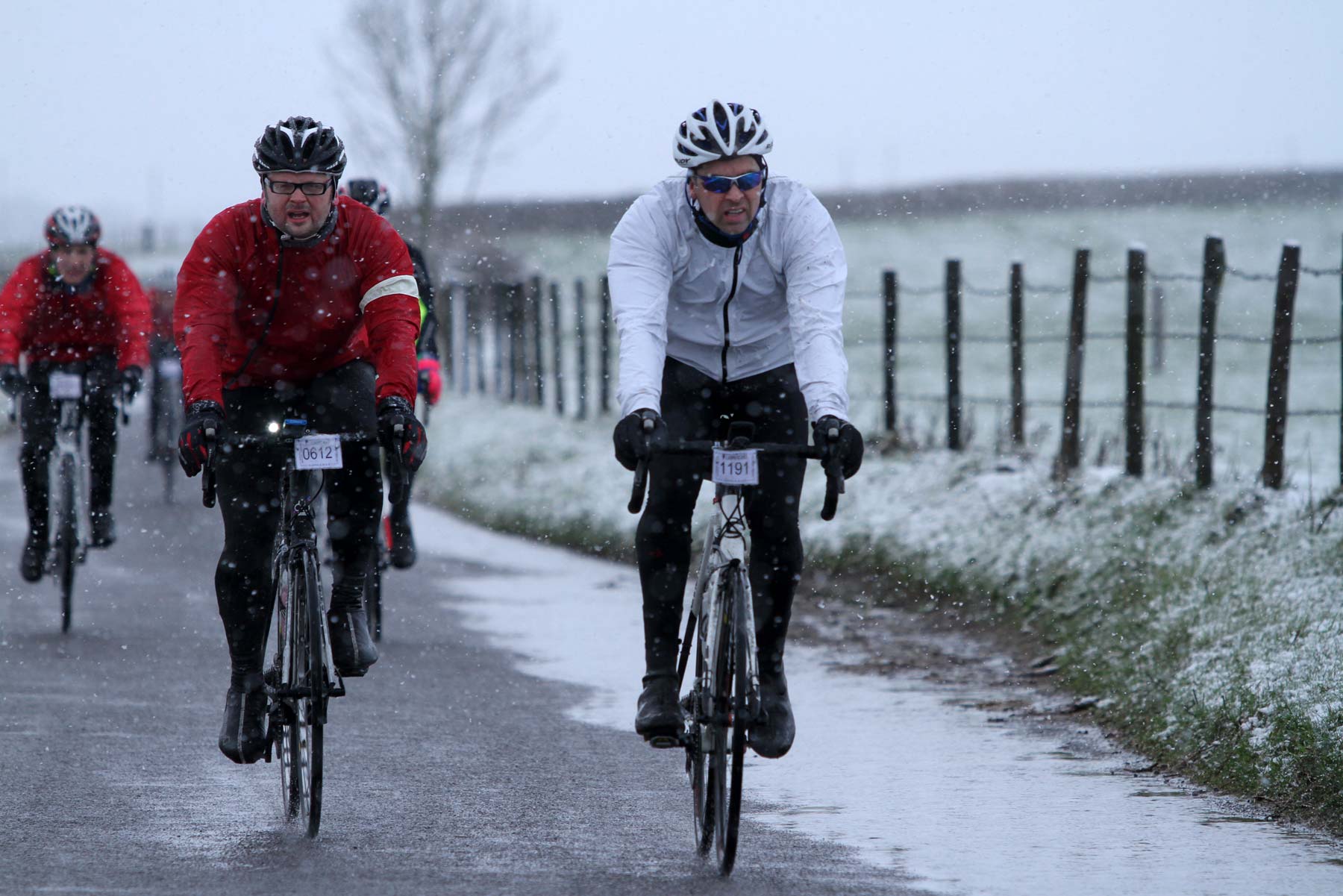 The snow gave way by the second hour, and turned into rain. I wasn't having the best time, and watched each mile add up on the Garmin. Each mile was closer to the finish.
King Alfreds Tower
Chatting to some other riders they told us they were saving some energy for the King Alfred's tower climb. I realised that I hadn't done any of my usual anal studying of the hills, and had no idea what was coming - probably better that way. At the start of the climb I felt good. I was passing other riders, and those who'd given up started walking. I dropped down to my 28 cog, stayed seated and tried to keep going. I was grinding forwards so slowly my Garmin was auto-pausing, but I was still going.
How on earth did I think I could 100 miles when 50 was so tough?
It didn't last much longer, my lungs were bursting and I had to get out the saddle otherwise I'd start rolling backwards. As soon as I stood up and put pressure on my right leg - TWANG! The spasm pain of cramp caught me by suprise and I just managed to unclip before I fell. I waited a while and when the pain subsided, walked the 'walk of shame' the rest of the way. King Alfreds was the worst climb of the day, but there were others not far behind. There were two more that I again had to walk.
The last 15 miles dragged a lot. I realised I wasn't talking very much, which made me a very poor riding partner for Andy. I couldn't snap out of it though, all I could think of was getting back in the warm and how much my bike and gear would make on ebay. How on earth did I think I could 100 miles when 50 was so tough? At least the rain had stopped and there was even some warm-ish sun. My feet were drying up!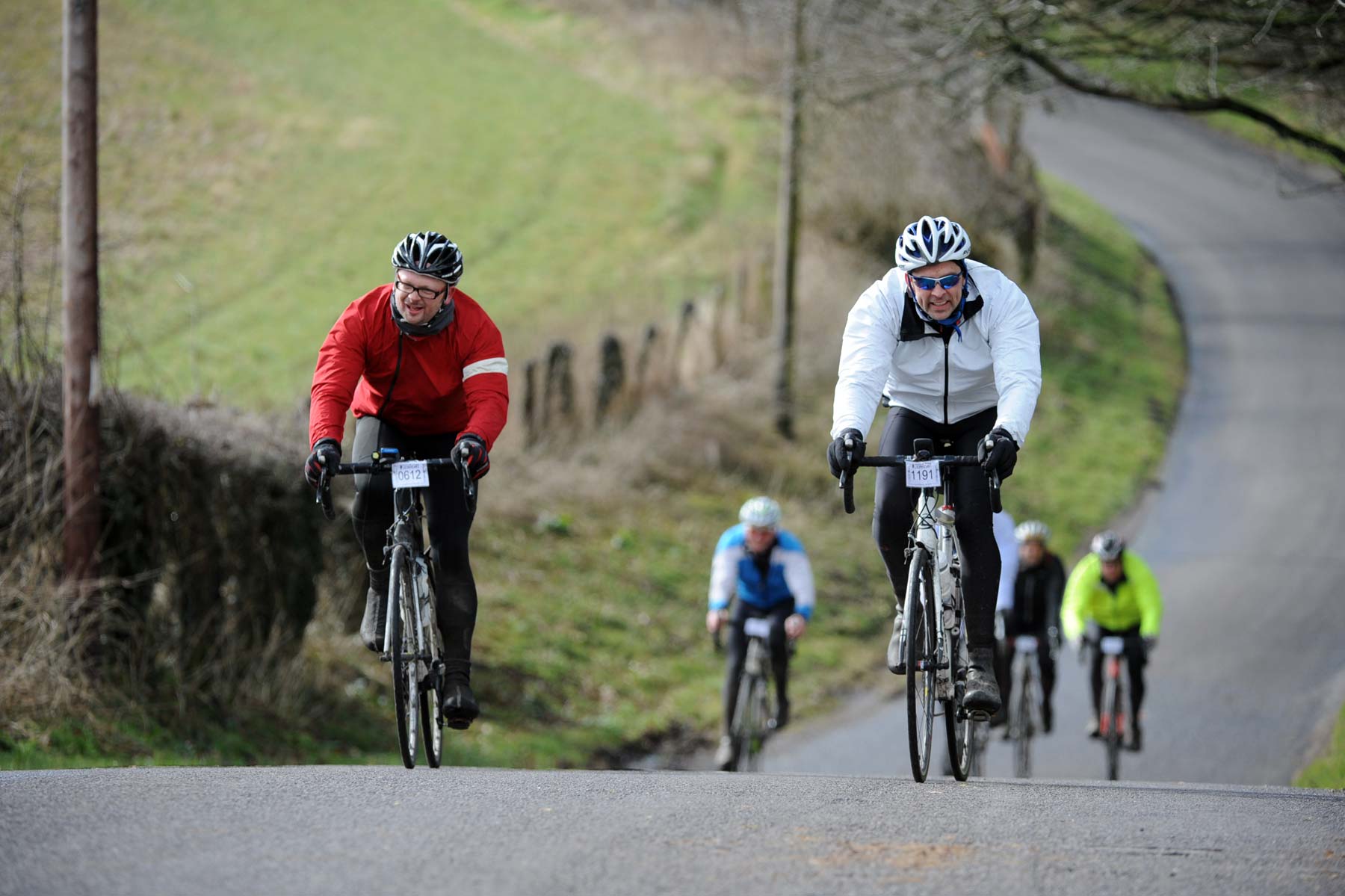 Grinding up a smaller climb near the end, my chain stuck mid-shift and I couldn't unclip from my pedals. I toppled slowly and gently into the verge where I just lay for a minute laughing at it all, unable to move. I cheered up a lot after that, and it was only a few miles to go now.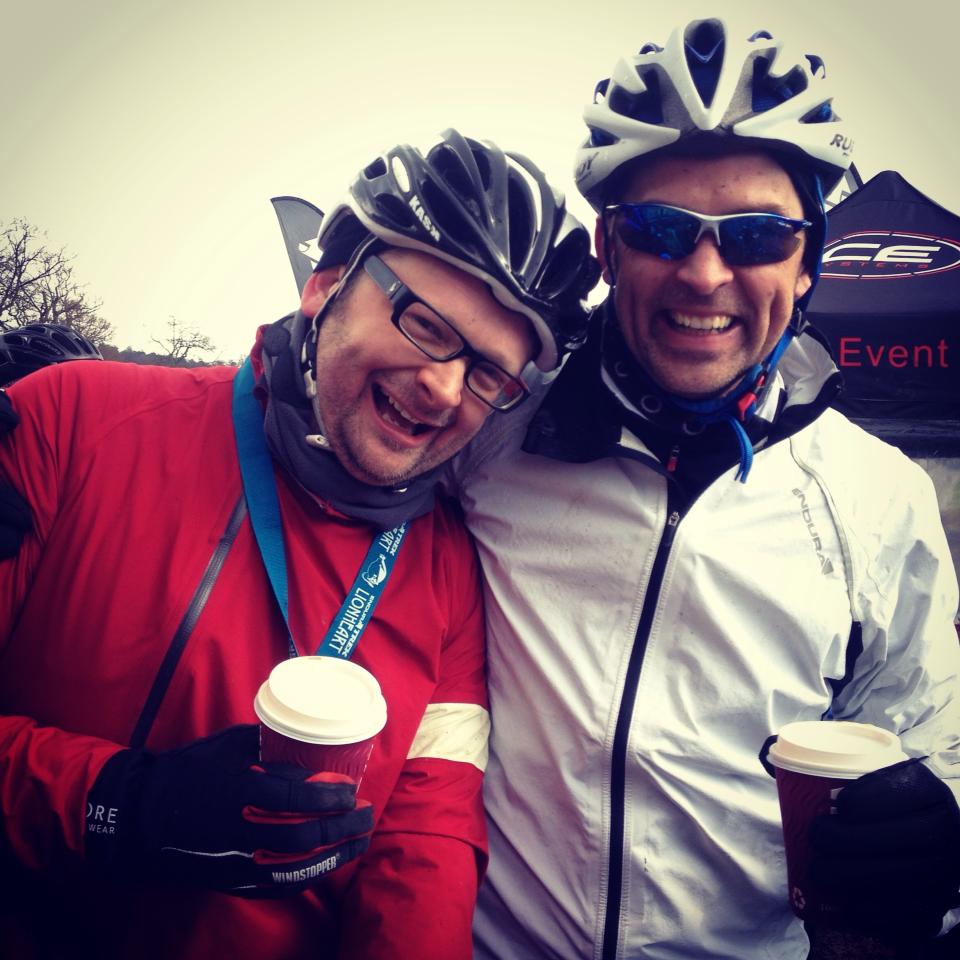 Finishing felt truly trumphant. The road leading up to Longleat House was a great way to end a hard ride, and our families were there to cheer us in with mars bars and coffee!
My previous sportives had been hard, but I'd been able to keep riding all the way. I was unprepared and it was a bit of a wake-up. As much as I hate the word 'training' (I prefer going on 'rides') I needed to do more hills and get much stronger legs. Yes, the weather wasn't great, but the climbs were the worst part.
On the plus side though, we did it! The numbers of those who either didn't turn up or gave up én route were in triple figures, so I at least I have the satisfaction of completing it, even if it wasn't quite the way I wanted. Did it put me off cycling? Not a bit of it. I got the chance to do my first century a few months later in the Circuit of the Cotswolds, and everything has stayed off ebay.
Photos by Sportive Photo and Leigh Hicks