Angel to Aztec
Ridden by Mark Boulton on 2013-06-16
Last year, I knew I had to have a goal in order to get out on my bike. There were just too many other things going on in my life that makes it almost impossible to carve out two hours for a ride: I run two busy businesses, I have two little girls under 5, and are renovating an old cottage we moved into last year. Popping out for a two hour ride was simply not on the agenda unless I had a goal that my family could support me through. That goal last year was a sponsored ride – for the company my brother works – for from Manchester to Bristol, via Wales, over two and a half days.

The route
The first day would take us from Manchester in the North West of England over to Chester for lunch before climbing into Wales and ending the day in beautiful Bala. The first day would be a 82 miles with about 3500ft of climb, which wasn't so bad. The second day, however, looked difficult on paper: Bala to Brecon in South Wales. 102 miles and just over 10,000ft of climbing. The final day would be a downhill spin into Bristol.
Needless to say, this route motivated me to train throughout May, June and July before starting the ride in August.
Day One: Manchester to Bala
81 miles, ~ 3500ft of climb
The first day was due to kick off from the 'Angel' office building in Manchester (hence the name of the ride) at 9am sharp. My brother, Jon, and good friend, Sam, were up early to get the train into town from my parents house. For August, it was chilly, overcast, but thankfully not windy.
At 9am, all 25 riders set off from Manchester to small cheers from fellow office workers. The first ten minutes of the ride was quite exciting. I've never ridden in more than a group of three, so being in the middle of a pelaton of 25 people, being sucked along, I barely had to turn a pedal at 18mph. Zipping down Deansgate in the inner city of Manchester in a big group was really quite something. Then it started raining. Of course it did; it's Manchester!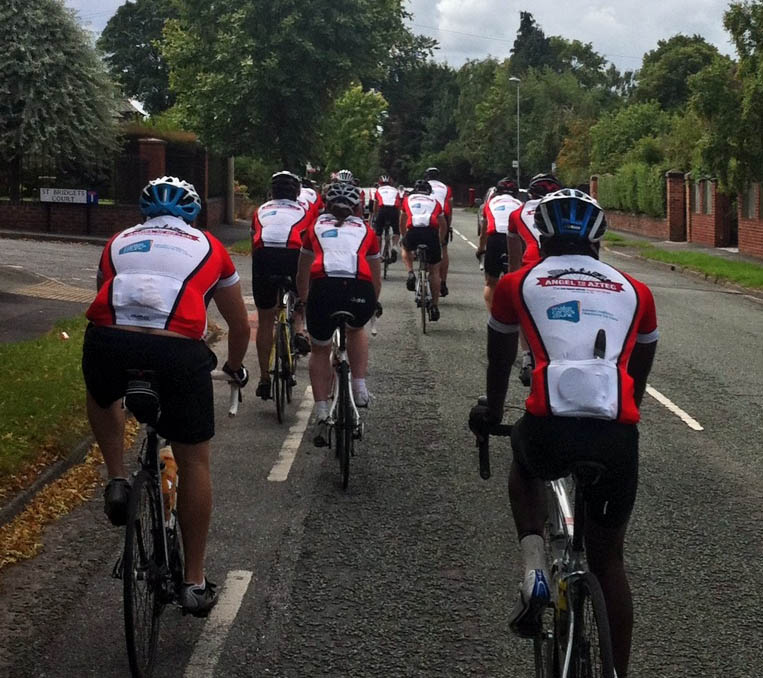 The next 40 miles to Chester were pancake-flat. We mostly stayed together in a large group, and much learning was being done by everyone who hadn't ridden in a group that large before; Etiquite was quickly established. To be honest, I don't remember much about that first 40 miles other than chatting to fellow riders. Introductions were made, and idle chit-chat followed, for about three hours and people changed position in the group. The morning was punctuated by a cake and brew stop somewhere in the middle of leafy cheshire.By that point, the weather was cheering up.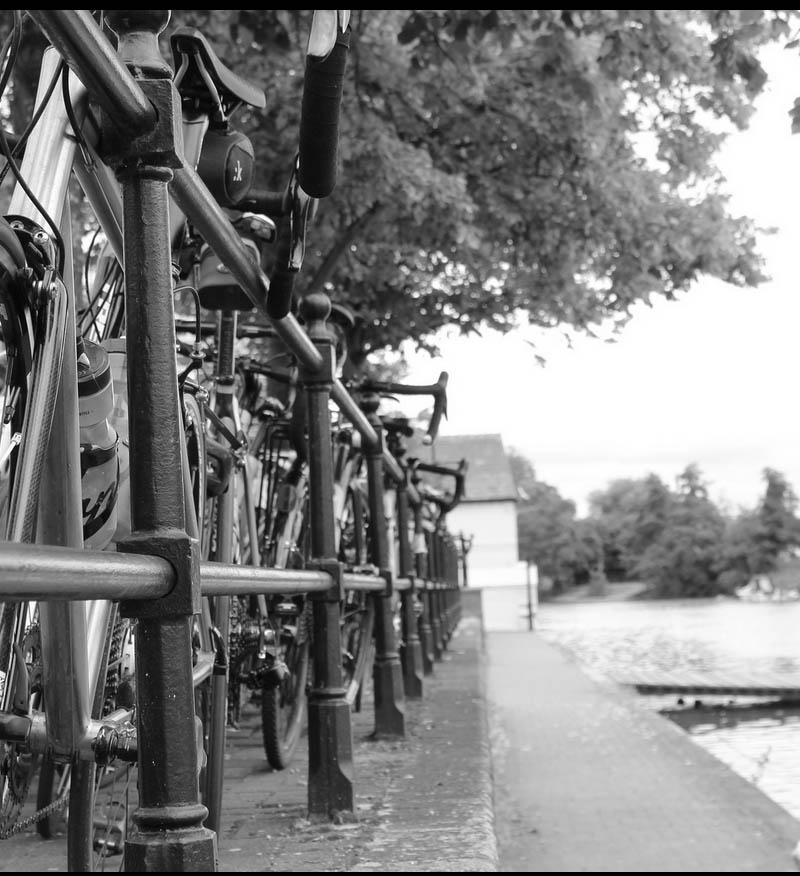 After lunch by the river in beautiful Chester, we alsmot immediately started the climb into North Wales on the somewhat infamous Sunspot climb of about 1000ft. Thankfully, the gradient wasn't too bad and we were rewarded with yet another brew stop at the summit.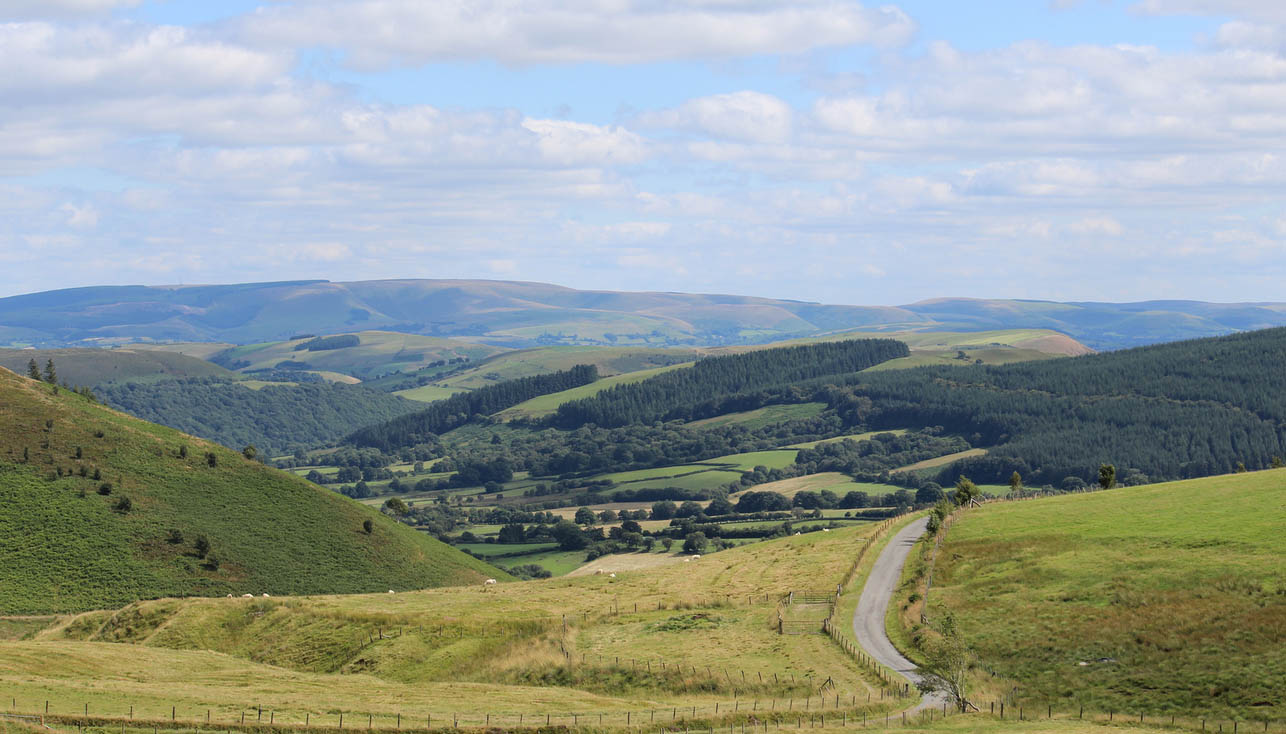 Sunspot climb was probably the highlight feature of the ride on day one. Following that, we rolled into Bala. Sam, myself and another rider were separated from the group and headed into Bala via another route. This proved ok, though, as Sam is a powerhouse of a bloke and regular club and TT rider, so he was just fine with me sitting on his wheel for about 15 miles as my legs started to tire. It was at this point, I started to feel a niggle behind my right knee; an old injury from my days of martial arts caused by uneven hip adductor strength (or so my physio told me!) This would start to occupy my thoughts for the next 24 hours.
An evening of pasta, banter, a couple of beers and an early night greeted all the riders in Bala. Surrounded by ancient mountains, and mirror-glass lake, Bala is a gem in North Wales. Slightly tempered, personally, by the fact I knew we had to climb over these mountains the following day.
Day Two: Bala to Brecon
101 miles, ~ 10500ft of climb
I wasn't looking forward to this day. Which was a shame, because the route wound its way through some of the most stunning countryside in Wales.
Following a hearty breakfast, the riders set off for a day in the hills and as much climbing as a third of the way up Everest. And Wales didn't disappoint, and, within 20 minutes of setting off we were 5 minutes into a 30 minute climb to over 1500ft. An undulating climb, I remember the first half of it clearly as this was the point my knee was starting to hurt again. Putting aside as perhaps it needed warming up, I carried on and the pain seemed to abate.

The descent of that first hill was quite terrifying. With a large group of mixed ability, we quickly singled out on a five mile long descent, reaching speeds of over 55 mph. I've never gone that quickly before and was amazed at how fast things could go wrong, especially as we had cars trying to overtake and split the group when the pulled in. At the foot of the climb, we regrouped, only to hit yet another climb. Hours went past, and I started getting hungry. Quickly getting through my supplies of bars and gels, and the now customary cake and brew stop, I was feeling the effects of the previous day.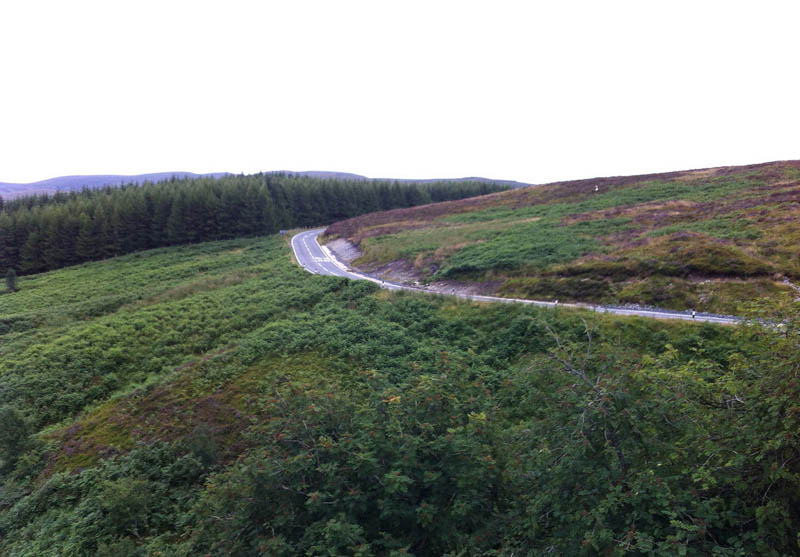 I'm generally okay at grinding through a long climb. The short, steep climbs, however, I find very challenging. I either don't have the strength in my legs and core to grind up them seated, or my heart-rate maxes out if I get out of the saddle. It's something I'd be working on throughout July to try and increase my ability to climb these short, sharp shocks. After about 2 hours in, that's exactly what we got with a climb of about 16% over a mile or two. In the end, I had to get off as my knee was really starting to twinge, now. Even the helpful push from my brother didn't much help, and I didn't have any more gears left on my cassette. The walk of shame, for me.
I was praying for a little rest. Ten miles or so of fairly flat ground would have been great, but no sooner as we had climbed the 16% hill, we arrived at the foot of a short, sharp climb of about 20% that had recently been resurfaced by the council. Only, it had been resurfaced with that loose gravel. All of a sudden, the group slowed and faltered. Chippings were pinging off frames, under mud-guards, and proving problematic with grip for those out of the saddle. I struggled up the foot of the climb and the gradient reached the point where I had to get out of the saddle. At that split second, my weight moved from off the back wheel and as I pushed the pedal down on my right (injured) leg, my wheel spun, and my tendon tore.
I've torn tendons before, so I knew exactly what had happened. That wet, squelchy click coupled with hot pain
I've torn tendons before, so I knew exactly what had happened. That wet, squelchy click coupled with hot pain and an immediate desire to stop and hold the injury. And I did that. I was straight off the bike, holding my leg.
I'm so incredibly grateful that the ride was supported. We had two cars and a minibus skipping ahead and indicating the route, or picking up those who were dropped on the hills, or in my case injured. Within two minutes, I was in the back of the minibus with ice on my leg and the bike in the back. The first aider was almost certain I'd have to go to A&E as it had immediately swelled to the size of a large grape, just behind my kneecap on the outside of the right leg.
And that was the end of my ride.
I know it's a bit trite to say, but I was absolutely gutted. I'd worked hard for this ride. Lost nearly a stone, cycled miles in the two weeks before in Portugal. But, there you go. It was what it was.
So, I stayed in the bus. We stopped for lunch. I hobbled around and quickly became part of the support crew doing the map reading and directing the riders through the next day and a half.
Everyone finished. Except me. Everyone did brilliantly, especially enduring the second day where, despite the hills to content with, there were issues with navigation that added miles and miles to the route and ending up on top of a mountain where the road literally stopped.
2014
This year there will be another sponsored ride. Maybe with more riders. The rumours I can gain from my brother are possibilities of the doing a couple of the routes of the opening stage of Le Tour in Yorkshire, or London to Paris, or Bristol to Manchester via the Cotwolds.
I don't mind. If they'll have me, I'll be going.
Strava
Day 1
Day 2