Paris-Roubaix, Hell of the North
Ridden by Richard Wiggins on 2014-04-12
It all started with reading an email from a friend Ade, on a gloomy morning Wednesday morning in October which opened with "...big cobbles, little cobbles, sloppy cobbles and grippy cobbles. OK, maybe four". And so our Paris-Roubaix journey began...
The Journey
...big cobbles, little cobbles, sloppy cobbles and grippy cobbles...
After lot's of planning (or more likely a lack of), riders dropping in and out and a suspected cracked frame on my chosen stead (Trek Madone 4.7) within a week of the trip, the three of us (Tim Print, Adrian Cockle and myself) set off towards Dover on a sunny Friday morning with a tub of 'millionaire bites' to keep us company.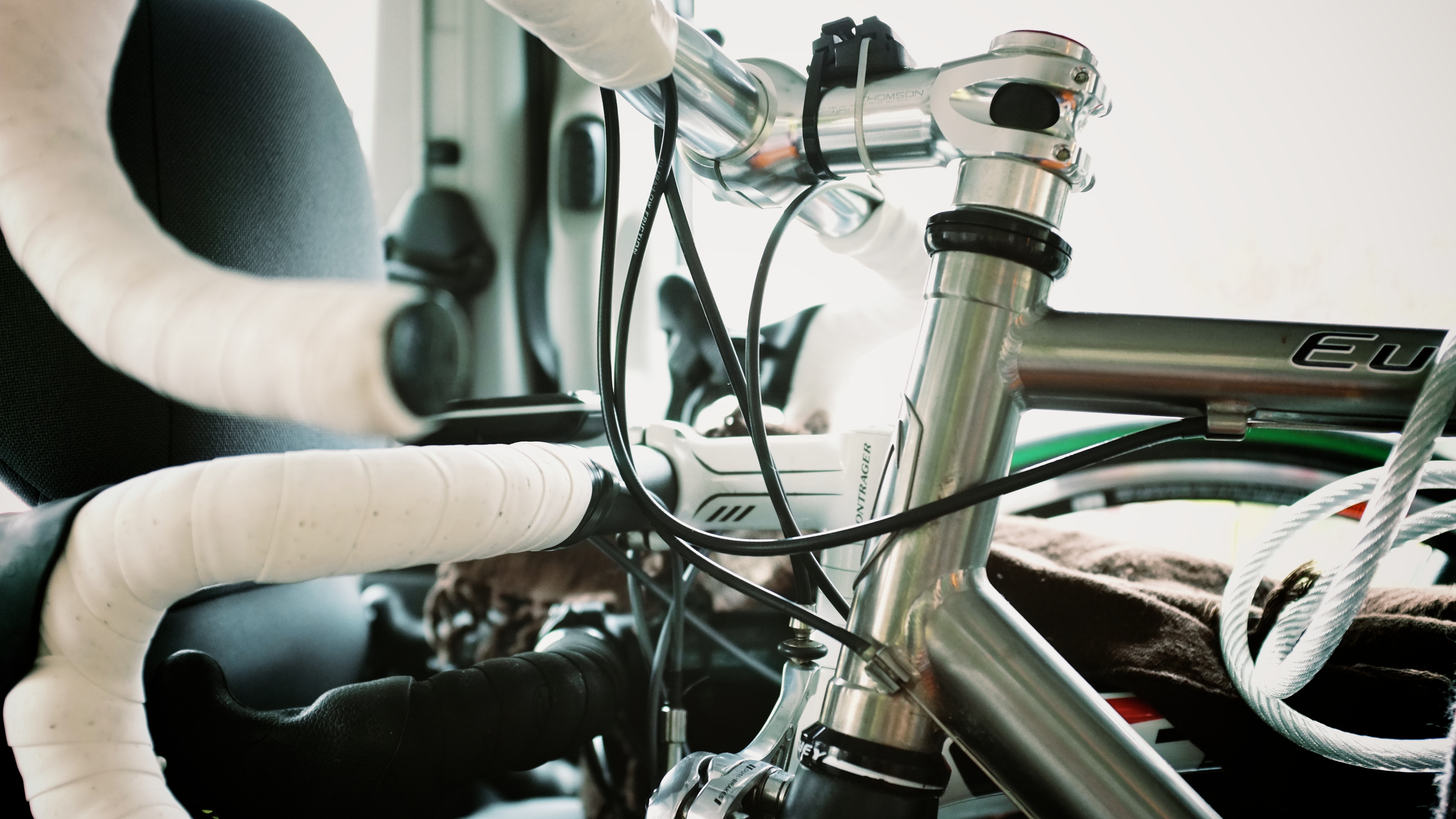 After the delightful ferry trip across the channel consisting of some pretty poor lunch options and a rather large number of clientele wearing strange outfits (assumed stag and hen parties), we arrived in Calais and continued our journey to Roubaix, where we could pre-register for Saturday's ride and then check into our hotel.
Roubaix
We decided to head straight for pre-registration at the Roubaix Velodrome. We then took the opportunity to walk around the iconic velodrome including Au Pavé – Roubaix Cycling Club's own Club House which contained the names of the previous 111 Paris Roubaix winners. Sadly we couldn't get into the famous shower block, home to many classic post-race photos. We did have a wander onto the actual velodrome track, planning our final attack... really just taking some photos.

We then proceeded to fill our hotel rooms with bikes and all manor of other cycling related paraphernalia before heading out for some dinner of trusty pasta and vino.
Our Ride
After about an hours sleep ("I don't snore": Tim Print) and a passable breakfast in our hotel – an Ibis Budget (like as if an Ibis isn't budget enough!) we made our way back to the Roubaix Velodrome for the start of our 141km ride. It was tricky conditions first thing on the Saturday, with the weather being fairly cold and very misty, but the forecast for a few hours later was sunshine with temperatures getting up to a comfortable 13-17°. I chose to go with short-fingered gloves, which I was more than happy with come lunchtime but suffered with for the first couple of hours.
Apart from being a tad cold, the first 20-30 miles were easy and rolled by. The roads of Roubaix were fairly quiet and VERY flat which made for a comfortable average speed. This was helped even further by extremely courteous French drivers and some of the busier junctions being marshalled by official helpers. The three of us chatted and continued at a nice pace bypassing the first feed stop at 18 miles, which seemed far too early. We had my homemade Denver Rice Cakes* anyway which kept us going for a while.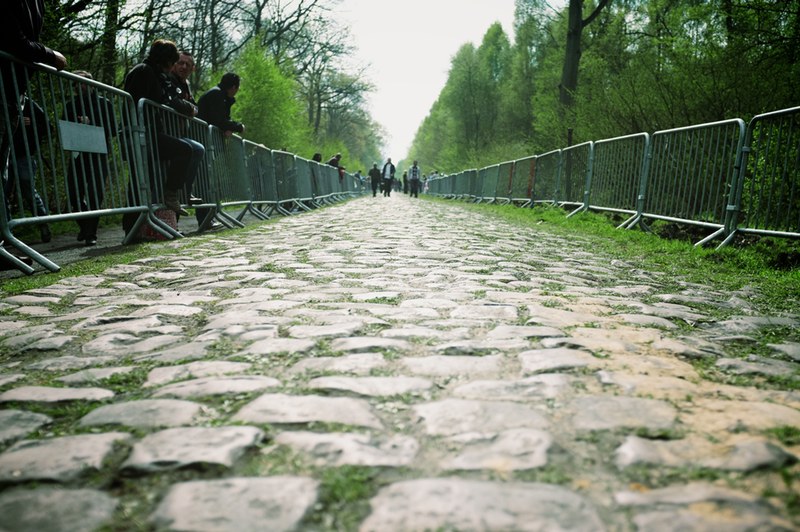 Pavé
Trouée d'Arenberg
The cobbles here are beyond anything else we would ride all day, huge, jutting out and ready to kick you off your bike at any point... simply brutal
After around 30 miles we approached our first cobbled section (pavé) of the day, and not just any cobbles but those of la Trouée d'Arenberg - the toughest we would ride and one of the most iconic and brutal cobbled roads in the cycling world. Ade mentioned our imminent proximity to the Arenberg Forest and my stomach turned and heart rate shot from a steady 85bpm to around 150bpm, and this before we'd even reached this fabled road.
To give a little background on this iconic road; it's a 2.4km, 5 star (rating of which 5 is the hardest) tree-lined straight stretch of cobbles, of which date back to the Napoleonic era. The cobbles here are beyond anything else we would ride all day, huge, jutting out and ready to kick you off your bike at any point... simply brutal.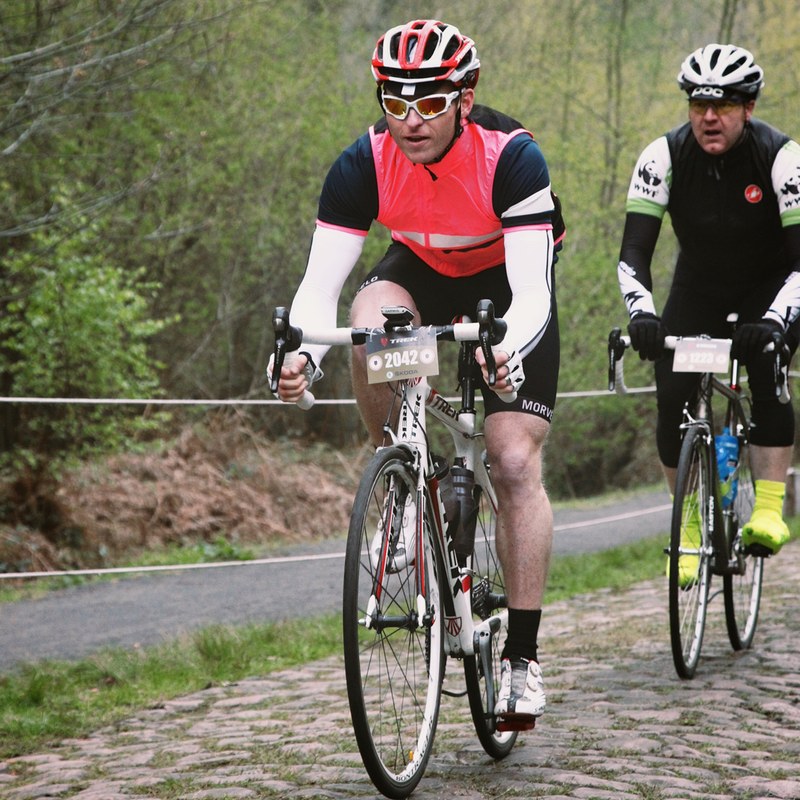 Our entrance into the Arenberg section was made slow through a gate where riders could only enter singly, unlike the professionals who are usually in the peloton. It was immediately clear that the best tactic was to ride as quick as possible and on the crest of this narrow (so-called) road. Firstly, riding as quick as possible is easier said than done on such a surface - I was totally unprepared for the shear bone rattling experience that my body and bike would take. The pro-tip is to ride relaxed on top of the bars, but I found myself changing grip constantly over this section, hanging on for dear life! Secondly, everyone had came to the same conclusion that riding straight down the middle was best and ever so slightly less tortuous than anywhere else, but we soon approached riders of a slower pace and so to pass them meant getting off the crest and riding onto the even rougher cobbles. This was far from straighforward as the cobbles were a mess, some missing entirely leaving large protruding stones which immediately slowed you down and causing that scary sound when you hear the rim of your wheel hit something hard.

After exiting the Arenberg section and hitting some smooth tarmac again, the three of us regrouped continuing at a steady pace and immediately starting jabbering about our first experience on these tortuous cobbles. My reaction was pretty much WTF!... but I also had a grin ear to ear.
Cobbles, cobbles and more cobbles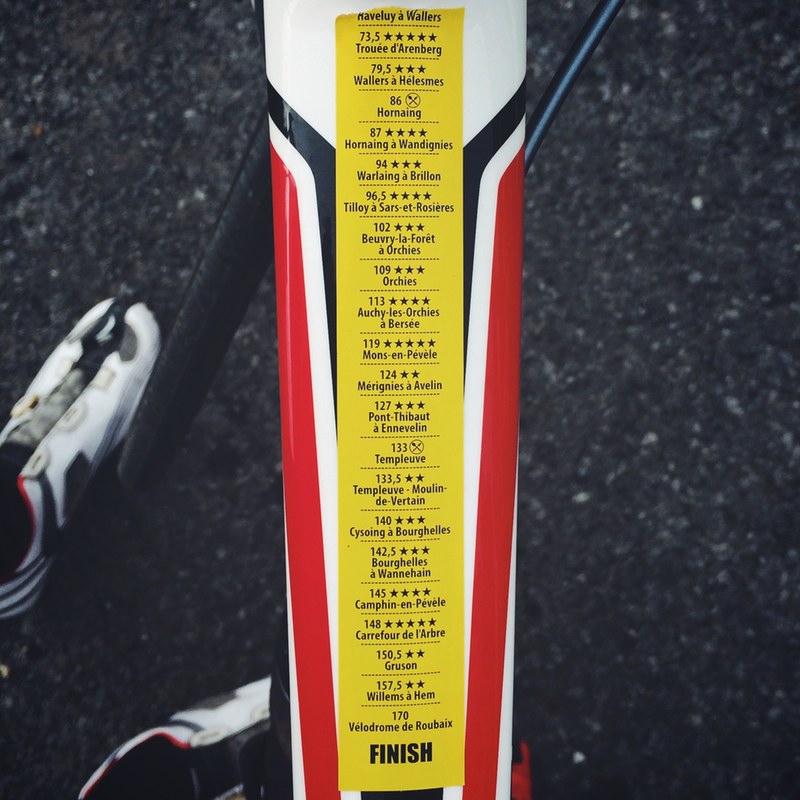 We continued on with our next section of pavé came 6km later, which was Wallers à Hélesmes and was a breeze in comparison to the Arenberg.

Our first food stop wasn't much further and we thought it was sensible to take some food on-board and top up the bottles. They actually had mini Belgian waffles as snacks... brilliant!

After fuelling we ploughed on and started hitting pavé every few kilometres or so. Some not too bad (in comparison), but many were arduous and the longer sections slowly wore you down, becoming more and more draining as we gritted out teeth and kept pushing.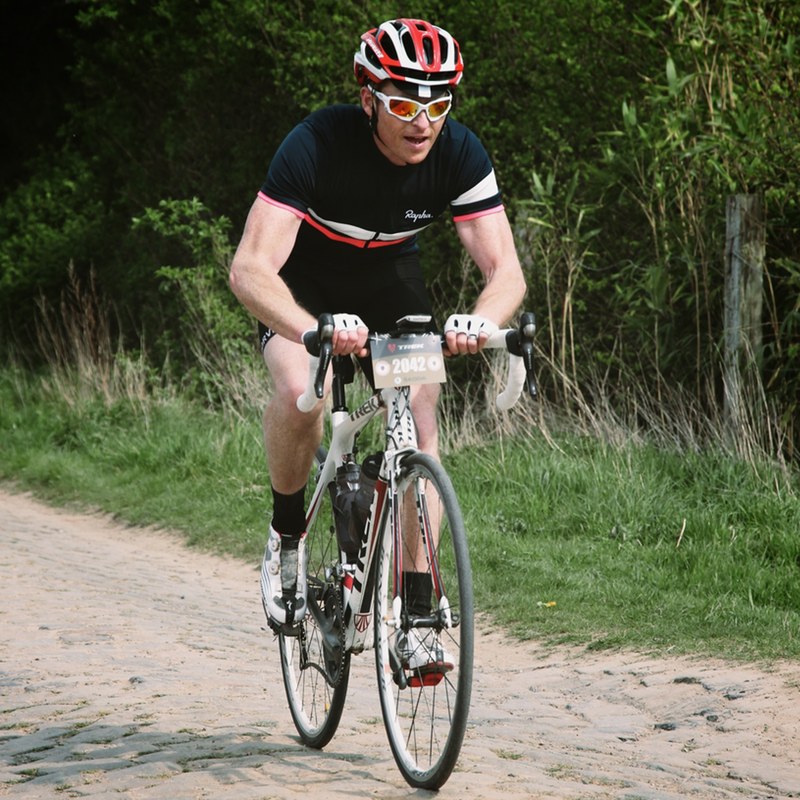 Many of the pavé sectors had areas where you could escape the rough cobbles, but you had to be very careful as they often disappeared quickly which left you trying to quickly find then best line back onto the cobbles. I actually rode over/through a small tree and a little while later, saw a European rider in a ditch... he didn't look too happy!

We had our last stop at about 67miles, taking the opportunity to fuel and take some quick photos. Might have had another Belgian waffle too.

Almost coming to the end of our ride we had one last significant, cat 5, 2.1km section of pavé to go; Carrefour de l'Arbre. The three of us were starting to tire but we knew that this was the last major sector to our Paris-Roubaix ride, and so we battled on. The cobbles here were really tough and they just seemed to keep coming, draining the last of our energy. Our legs and bodies ached as we made onto flat tarmac once again, taking a quick breather and then one last little push over some smooth roads and two easy
pavé sections, we approached the finish...
The finish line – Roubaix Velodrome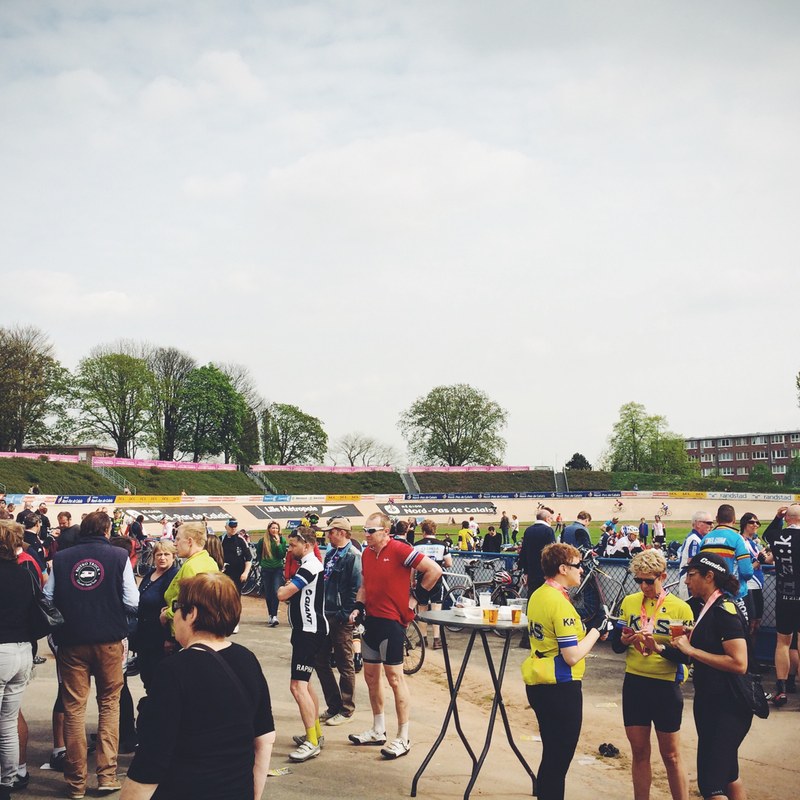 We rolled through Roubaix and approached the velodrome in the cobbled centre section, in-between the two actual roads. We then took the sharp right-hand turn into velodrome grounds and then onto the actual velodrome track and stadium. This was a grand stage for our finish and a magnificent feeling knowing what we had done, and that the pros would be doing the same the following day. We crossed the line together with big grins and a massive sense of achievement, and most surprisingly with not a single puncture or mechanical between the three of us!

We thought our way through the crowds of other cyclists and spectators and found a spot to park our bikes and weary bodies on the grass, in the centre of the velodrome track. I immediately found the what we required at that point, three Leffe and some frites... job done.
Recovery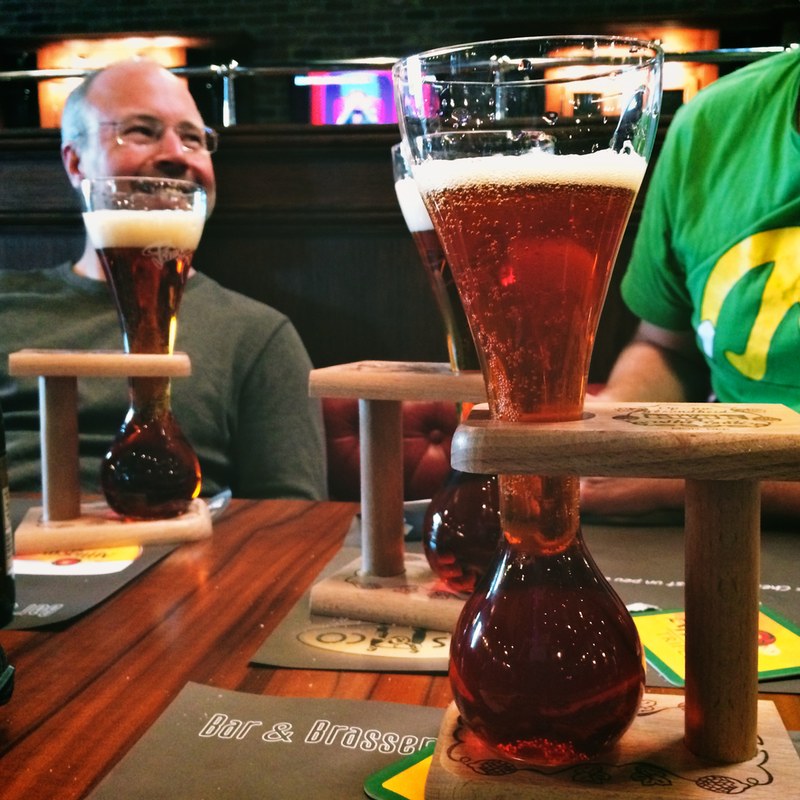 We headed back to our hotel and after a shower to wash away the sweat and dirt from the ride, we headed to a restaurant literally next to our glamorous hotel, the enticing 'Beers & Co'. You can probably guess why we headed there. After we consumed some fairly hefty burgers we washed them down with plenty of fine Belgian beer. Adrian was a bit more reserved and hit the sack whilst Tim and I managed to work our way through a few more. We headed to bed ourselves (eventually) and I was immediately asleep. It had been a long but good day.
The Pro Race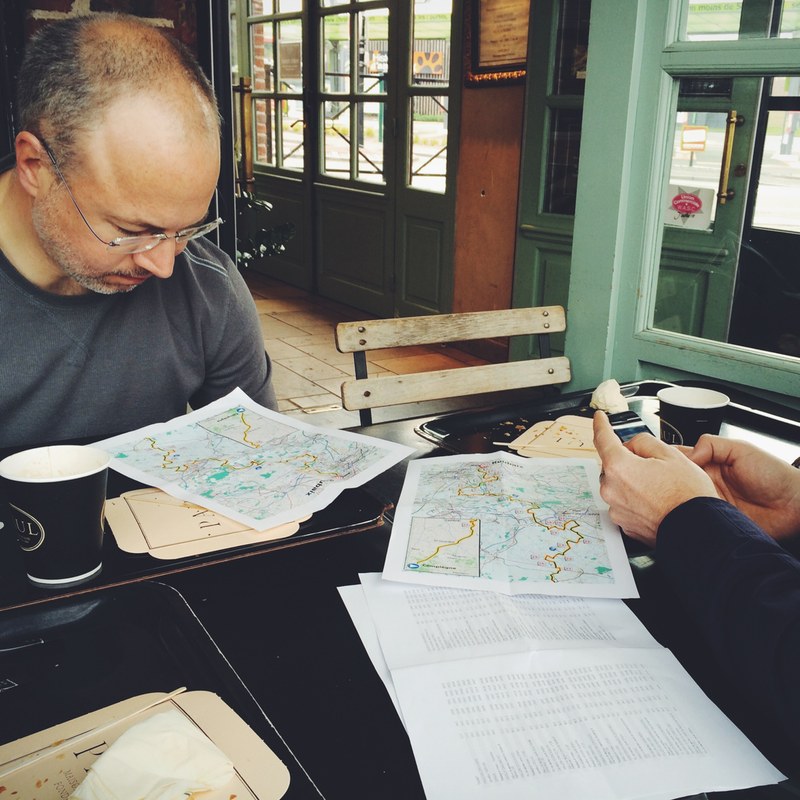 After a cracking nights sleep we headed out for pasties and strong coffee. We took the opportunity to go over the course route that the professionals would be taking and plan where we were going to head out and watch them. We all decided that the Arenberg would be a great spot, and then we'd had back over to Roubaix velodrome. We wouldn't be able to get inside but thought we could get them on the approach, plus Adrian was due to [have a chat with one of the Garmin-Sharp management](http://www.adememoire.co.uk/post/72070818949/garmin-sharp-panda) there too.

After eventually seeking additional breakfast, as the pastries were simply not enough after the previous days activities, we headed to the Arenberg and found a good spot. We were there almost two hours before the caravan and peloton would fly past, but the atmosphere was already building and large group of lads flying the Flanders flag kept us amused – they had clearly been on the Leffe for hours already and were taking it in turns to jump a small stream... laughter guaranteed! Whilst these shenanigans were happening we settled in and tucked into our supplies of french (obviously) bread, cheese, salami and wine.
Eventually the crowds started to stir as reports were being heard that there was a small breakaway and that it wasn't far away. The support and team vehicles starting passing down the narrow cobbled road, barely wide enough to fit some of the vehicles. Suddenly a roar and cheers went up as that breakaway flew past, attacking the cobbles which much more vigour than the three of us has mustered on the previous day. What seemed like only moments later the peloton streamed past at what felt like a phenomenal speed given the treacherous cobbles their bikes and bodies were smashing over. The riders faces, grimacing, soaking up the pain of the ride and the cobbles. We had felt some of this on our ride but admittedly we weren't pushing ourselves to the limits like these guys.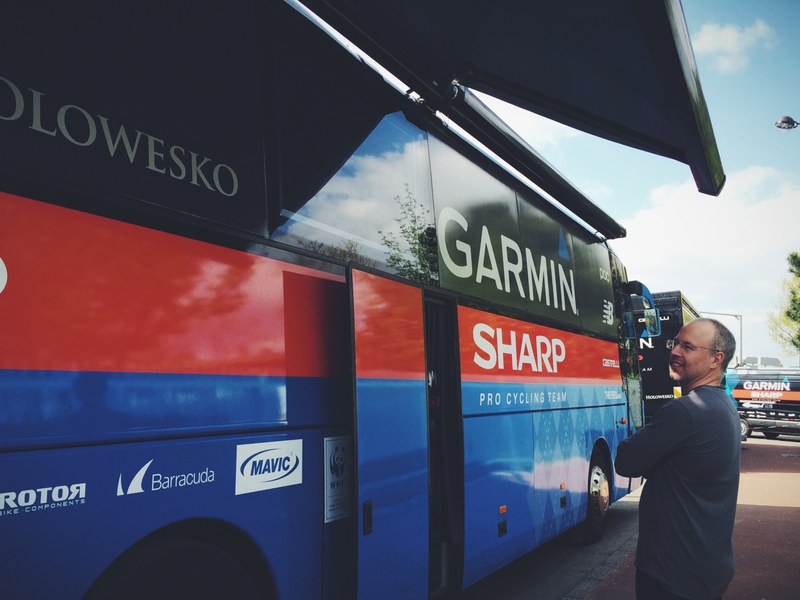 Within minutes is was over, the crowd started to disperse and we made our way back to the car and then headed back to Roubaix. Adrian had plans to speak to someone at team Garmin-Sharp so we found their team bus and whilst Ade had a chat, Tim and I made the most of their huge TV screen on the outside which was showing the race unfold live. After a few minutes, much to our surprise we were invited on-board the bus, where we took our seats and continued to watch the race from one of their many internal TVs whilst having a nice chat with various team/staff members. All very bizarre and unexpected but a very nice experience nonetheless.

After a little while we headed out to find a good spot where we could watch the riders enter the velodrome for the finale. Sadly it was a ticket only affair for the velodrome on race day, but Adrian had managed to "borrow" a pass where he got to enjoy the final lap and excitement. Tim and I instead found a good spot at the end of the flamme rouge, just before the riders would enter the velodrome. It wasn't long before all the support vehicles came past and then almost from nowhere a lone rider flew past us and into the velodrome, the crowd almost surprised. Just twenty seconds later more riders raced past; including Cancellara, Wiggins, Sagan, Boonen and many more top riders. Following those the rest of the peloton swooped in, some just pootling by... their work was done. By the way, that lone rider was Niki Terpstra who had gone for a last-minute solo attack and had made it stick to the finish and took the Paris-Roubaix 2014 win... chapeau!
That was is it, we got back to the car and headed back to the ferry and the UK. It was an amazing weekend and experience, one that I'd really recommend to anyone interested in cycling. Participating in the sportive on Saturday and then watching the pros do it 'properly' on the Sunday is something I won't forget, made even better by the great company of Tim (thanks for doing all the driving!) and Adrian. So same time next year anyone? Or maybe even Flanders.... who's in?!
Allez!