Have you got a Ride Story you'd like to share? There are no strict rules - just describe the ride and be as concise or verbose as you like! You can write about the whole ride, or just one aspect of it, it's up to you!
Contributing shouldn't be too onerous - articles are just a plain text file with some images. Simply download the example story and biography and fill out the story.txt and rider.txt files. Use Markdown to add any text formatting.
If you have ride data on Strava, use the 'embed on blog' code that Strava offers and paste this at the end of your story: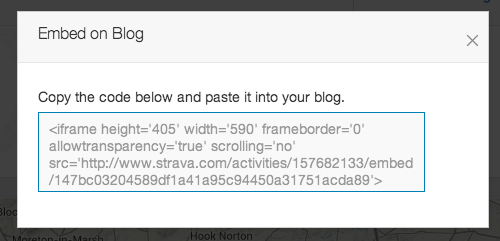 Put any images to accompany your story (Photos, Instagrams, Sketches/doodles) in the same folder as the story. Show me where the image should appear in your story with its name like this: (image: bloodyhills.jpg). For the biography, just add a bio photo (a square-proportioned .jpg please) into the rider folder.
When you're finished, simply zip up the folders and send them in!
Thanks!
Thanks to Simon Clayson for some of the lovely header images and Bastian Allgeier for all his help in setting up Kirby CMS.